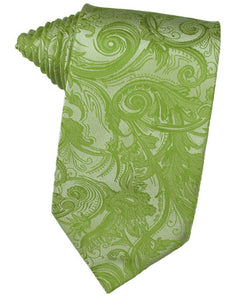 Clover Tapestry Necktie
Regular price $15.00 Sale
The whimsical paisley pattern in the Tapestry Collection gives a more fashion-forward approach to accessorizing, while still being elegant. The paisley design is finely detailed and available in a large variety of colors. The versatility of the pattern, allows the Tapestry Collection to pair well with any bridesmaid dress with ease.



Color: Clover
Pattern: Paisley
Material: Poly Woven
Style:

Self Tie
Width: 3.25"
Length: 57"



STYLING TIP: Don't forget to order a pocket square with your necktie. You have the option of selecting either a matching fabric pocket square (Tapestry) or a coordinating pocket square in a different pattern (Luxury Satin or Striped Satin).
PRODUCT REVIEWS: